collaboration
We have a new Acoustic Conversations Podcast episode up... time our guest is Dustin Pattison . Check it out.
I'd like to point you all to a very cool project that I'm participating in. Acoustic Conversations is a show where singer-songwriters are interviewed about their life, career and music, and also perform several live unplugged versions of their songs. They're professionally recorded and the whole show - interview and songs - is made available for download to all the show's listeners, through a podcast format.
Pete Wright and I are the hosts of this show, and we've got an active season planned, with a couple of episodes already live. We just pushed live the Sam Wegman episode, and we just recently pushed live the Tyler Stenson episode, as well.
The show appears to be getting popular quickly, as the fans of each musician adopt the show and check back for further episodes. We're finding several amazing musicians from the region and beyond and will be releasing new episodes over the foreseeable future. If you want to get some good high-quality tracks from independent musicians and also hear what makes them tick, come check it out at acousticconversations.com. There is also a facebook group that gives early access to the songs if you join it.
Another Kasey Baker painting, in response to my piano musings.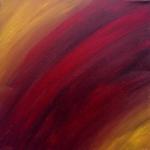 After The Rain is the second part of a two-part improvisation sequence exploring tension and release. As always, the piano music was made up on the spot, and the art was done similarly and quickly, with no planning ahead of time.
"The rush of the storm has passed. The only things that got washed away were those things you can do without."
Another Kasey Baker painting, in response to my piano musings.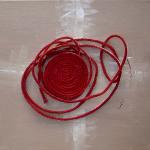 Tie Down For The Storm is part of a two-piece sequence exploring tension and release. The two piano improvisations were intended as a set, and then both of the artworks were completed as a set as well.
"Some kind of storm is coming. You have to tie down everything that is loose. Because you don't know what will happen. Something. Might as well tie yourself down, too. Then just wait."
I have a new recording of She Believes up over at my myspace page. It's more polished and smooth now, and also has a bass player. Still a rough, as I need to get another recording with my drummer, and the bass player mixed a little louder, but I like the progress. I also have a recording up called "Crunchhead", it's one of the many improvs my group called "Triage" is doing. (Need to change that name.) We just get together and make stuff up on the spot. This one is just of me and Steve Morgan, but usually we're also playing with Steve Turmell.
I'll have more stuff up here soon, I have a bit of a block because I want to restructure my feeds in a way that I feel more okay about posting my (many) roughdrafts. One thing that is odd is that there are all these rules against posting covers to one's own websites, but posting videos of those performances to youtube (and then posting the videos here) doesn't seem to be a problem.
I'm looking for another bass player to do some rehearsing with. I have a couple of bass players that I'm able to play with once in a while, but both are also pretty busy and I'm hoping to do some more workshopping of my songs and also some jazz trio playing.
Here are some of the future plans:
She Believes - this is actually intended for a trio - me, bass, and drums. I've got a couple of great mp3s of me rehearsing it with a drummer friend, and it sounds great. A good bass part would really fill it out.
The Aaaaay Song - I don't have a version of this online yet (still working on the lyrics) but it's a bouncy shuffle that's great fun to play. Again, good for trio - me, bass, and drums.
All Aboard - this was originally intended to also have guitar, but with a good bass a drum section, it might work without it - I'm still working on it. It's an older song and not necessarily closely related to my more recent sound, but it's good filler and good to have around.
My Favorite Clown - this is probably better for a more produced sound - either solo, or with strings or something - but it would be interesting to have a fairly active upright bass sound to it, especially if bowed. I've got other instrumentalists that would be interested in being part of an ensemble for some of these arrangements.
There are a few other songs in progress. Of course, with a good trio in my back pocket, it motivates me to write faster!
There are also plenty of jazz standards. Ain't Misbehavin', But Beautiful, Desafinado, Have You Met Miss Jones, etc. Recordings available upon request.
I'm basically looking to split time between actually slowly working up a set, but also just using rehearsal time to play around and be a good trio.
Another Kasey Baker painting, in response to my piano musings.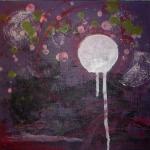 Glass and Steel is about a particularly tragic automobile accident.
"There is a stillness after destruction that is peaceful and stunning."
Another example of how the Creative Commons is cool - I heard from a "Captain" Pat McGeown, who is producing a community television show in Sydney, Australia. He'll be using one of my piano musings, Old Toy Soldier as part of a soundtrack for one of his episodes. There's a brief article about it here, and in a few weeks the episode will be up online and I'll have it here.
All of my Piano Musings are podsafe, which means that podcasters can grab them and use them as background music for their podcasts, as long as I'm credited, etc.
There is a site called Podsafe Audio that specializes in categorizing this kind of music. I just created a page specifically for the piano musings, and you can find it here.
Lisa Albinger has finished the painting that was inspired by My Favorite Clown, here is a picture: