Another Kasey Baker painting, in response to my piano musings.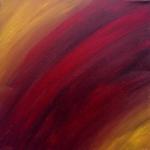 After The Rain is the second part of a two-part improvisation sequence exploring tension and release. As always, the piano music was made up on the spot, and the art was done similarly and quickly, with no planning ahead of time.
"The rush of the storm has passed. The only things that got washed away were those things you can do without."