Hello friends and stalkers! (I don't think I'm important enough yet to have "fans", so if I don't know you, you're just a stalker for now. Welcome.)
A few things to report since my last newsletter. There are some new features on the site, a few new songs, a new project, and some additional paintings as well.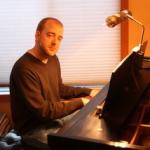 I've been trying to figure out how to share my recordings with you all - a lot of the work I've been doing has been about getting more comfortable with jazz. Lately I have been recording and singing a lot of jazz standards, trying to find my own voice and approach. One of the features I've added to the site is a Request form, as in "I Take Requests". A few of you have already used it, including my father, who requested a rendition of When I'm 64 for his 64th birthday (it turned out great).
Unfortunately, if I'm going to make jazz standards publicly accessible, I have to pay royalties to publishing companies that are quite often very hard to find. At the same time though, many of you are personal friends of mine and shouldn't be considered part of the "general public". (Yes, it's a rationalization, but one that the performing organizations would hardly sue me for.) I'm still working on a solution to that puzzle.
In the meantime, I've uploaded more original material. A New Steeple is another piano musing that explores the Small Town theme I've been so drawn to over the past few months. Incidentally, this "Small Town" theme is something that may be expanded in a few exciting directions in the future months. Keep checking my site for more news on this.
In addition, I've added two versions of one of my favorite originals, As One. The first one is a version I did for my old a cappella group, In The Buff, back in 1995 - it's for voices only but has somewhere between sixteen and twenty parts. The second one is a cover produced years later by two people in Germany! It's a wildly different rendition. Listen to both right after each other and you can see just how different a song can sound when put in different hands. I like both, but I personally think that the purest version of the song doesn't exist yet, and finding that is still part of my future plans.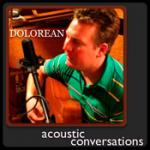 I wanted to briefly mention a new project I am involved in, as a co-host for a new podcast called Acoustic Conversations. This is a local podcast that is devoted to interviewing working singer/songwriters. We have one episode in the can already, featuring Al James from Dolorean, and I found it just fascinating to learn about the music industry from the perspective of an indy musician that is already touring and recording. He also performed some original works for us on the podcast. Go to the site to check out the show and hear the first episode. And if you know of performing songwriters you think would be a good fit for the show, let me know!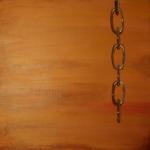 If you want to see some cool art, watch the site for the next three weeks in particular - Kasey Baker has supplied several more paintings for my piano musings project, each an artistic response to a particular piece, and I will be posting them every three days. The first one you see here is for Rundown Playground, an improv I came up with a few months ago. Check out the site for a closer look and to hear or download the piece. I'm very excited about this series - we're planning to make the art available in other forms, and I'm also hopeful the project will continue to grow, to include more and more artistic collaborations. More collaborators are always welcome!
Finally, summertime is here and my jazz combo is ready to gig! If you have any ideas on where a great eight-piece (three horns!) jazz combo named Deja Nu could perform this summer, let me know! We've got quite a bit of material, and I'm singing some of it, including Mack The Knife and You And Me And The Bottle Makes Three. I'll keep you all posted for gig announcements.
Until next time! Stay tuned to the website for more up-to-date information.
Curt
curtsiffert.com